Gregory Equine Lined Neck Piece
$140.00
The Lined Neck Piece is very popular during the colder months when you want a bit of extra warmth for your horse.
All Gregory Equine Neck Pieces are lined with satin to prevent the mane rubbing, they also have PVC Stiffening along either side of the neck to stop slippage and a few options for you to pick on how you would like them to fasten up under the horses neck.
The Neck Piece connects to all Gregory Equine covers by PVC straps with buckles onto the dees on the covers.
You can  line your  Neck Piece with Polypropylene, Wool or Cotton Duck.
Additional information
| | |
| --- | --- |
| neckpiece-size | Pony, Standard, Yearling |
| weight | 15oz, 18oz |
| Lined | Wool, Poly, Cotton Duck |
Product Enquiry
Choosing Your Cover

Here at Gregory Equine we use the canvas brand Regentex. Regentex canvas is specifically imported into in New Zealand to manufacture premium horse covers and accessories for New Zealand weather conditions.

Its breathable characteristics ensure that the horses health is not compromised and its Ripstop weave is strong enough to cope with those cover rogues who enjoy playing and trying to wreck their covers.

Regentex canvas is available here in a range of weights 12oz, 15oz, 18oz and 24oz. As a guide, we like to say the heavier the canvas, the more waterproof it will be but over long periods of heavy rain any canvas will get to the point where it cannot take any more water. It will then let moisture seep in.

Your best chance to keep your canvas cover waterproof is to add a lining which will act as a barrier to keep the moisture out. With a thicker lining, you have a better chance of keeping your horse dry.

Generally, for Winter, the most suitable cover would be an 18oz Poly or Wool lined canvas rug. Adding a tail guard also can help if you are in high wind and rainfall areas as when your horse turns his hind quarters to the direction of the rain and wind it will act as a barrier to stop the rain getting up under the cover.
We recommend a 15oz Cotton Duck or Jute lining for Spring and early Autumn. These covers will add a little bit of warmth for your horse and keep out those surprising showers that pass over.

In Summer our 12oz Regentex Canvas covers in the white is very popular. If you wanted to you could add a cotton duck lining also as this would help with those cooler nights and little sun showers that pass over. Even if they do get a little wet- they do dry very quickly when they sun appears.

Our Canvas 12oz Fly Sheets are also hugely popular during Summer. They are made from 12oz Regentex canvas and then the bottom half is made from industrial strength outdoor mesh. This will help protect your horse from the sun and insects and also keep light showers off their back.

The 8oz Poly Cotton Sheet is also a popular choice for the Summer. It is not waterproof but handy for those very hot days.




If you are still unsure about what you are after – Give the girls a call today to discuss this further.
Sizing Guide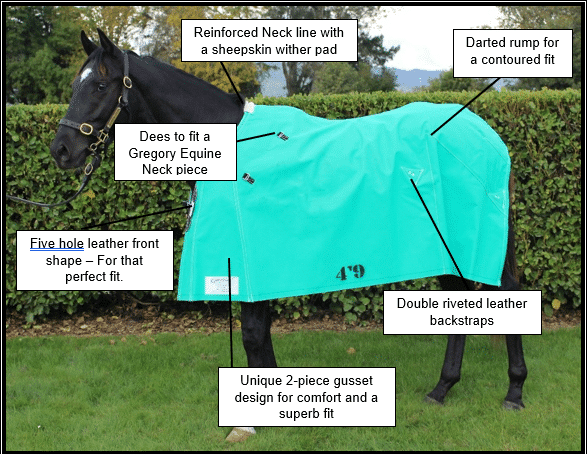 Cover Conversion
NZ – Inch – metric – Aus – USA
3'3″ – 3'9″ – 99cm – 4'6″ – 5'7″
3'6″ – 4'2″ – 107cm – 4'9″ – 6'0″
3'9″ – 4'5″ – 115cm – 5'0″ – 6'3″
4'0″ – 4'8″ – 122cm – 5'3″ – 6'6″
4'3″ – 5'1″ – 130cm – 5'6″ – 6'9″
4'6″ – 5'4″ – 137cm – 5'9″ – 7'2″
4'9″ – 5'7″ – 145cm – 6'0″ – 7'5″
5'0″ – 6'0″ – 152cm – 6'3″ – 7'8″
5'3″ – 6'3″ – 160cm – 6'6″ – 8'1″
5'6″ – 6'6″ – 168cm – 6'9″ – 8'4″
All products are custom made, please allow 1 week for order to be completed.
If you need a rush service, please contact us.
About our extras.


Jute – 20oz Hessian material- Woven & Unproofed- Great for pulling the coat out on hairy horses.

Cotton Duck – A quality 100% cotton, unbleached, unproofed, loomstate woven canvas lining. Great for adding shine to the horses coat.

Polypropylene - Extra warm and durable. Great Spring/Winter Liner

Wool – 100% New Zealand Wool Liner. Very warm.

Extra Gusset – An added inch (2.5cm) on each side of the unique Gregory Equine Shoulder gusset

Extra Drop – An extra 8 inch's (20cm)added into the back line to extend the drop of the cover